Side A
T.V. as Eyes 2:16
E music C words S music
Zombie Warfare (Can't let you down) 5:47
E music & words C music
March of the Chrome Police (A Cold Clammy Boming) 3:36
E music & words
You've been Duplicated 2:37
E music & words C music
Mondo Anthem 3:30
E music C music & words S music
Side B
Half Machine Lip Moves 5:21
E music & words C music & words
Astract Nympho (Astract Nymphd on Italian) 3:34
E music & words C music & words
Turned Around 1:58
E music C music & words
Zero Time 3:02
E music C music & words
Creature Eternal 1:52
E music & words C music & words
Critical Mass 2:00
E music & words C music
E - Edge C- Creed S- Spain
US pressing includes 19-3/4 x 15" monochrome poster w/ lyrics and credits.
John L. Cyborg credited for "Data Memory" on the poster. Some posters printed with magenta ink, others with black.
Note: Helios was not credited on the Italian record for You've Been Duplicated. Abtract Nympho mis-spelled on Italian pressing as Abstract Nymphd.
The original Siren pressings had a sticker on the shrink wrap showing the names of the songs: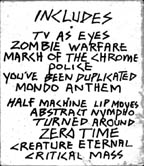 Thanks to Christophe Sorro for scan.
Note that there have been at least two different molds made for the Siren pressing. It is unknown at this point whether they were mastered differently or not, although it is reported that the "S-6420" pressing was done on heavier vinyl than the "L-1736" version.
Real Nerdy Matrix Info:
Siren Pressing #1 (?): DE-333-SEC-A L-1735 / DE-333-SEC-B L-1735-X
Siren Pressing #2 (?): DE 333 SEC-A S-6420 / DE 333 SEC-B S-6421
Expanded pressing: EX 13-2L DD 3-12-81 / EX 13-1L DD 3-12-81
Dossier Pressing: DOSSIER ST -6- A SST / DOSSIER ST -6- B SST
Dossier "first pressing" on clear vinyl. I don't believe there were any additional pressings, so they are all on clear vinyl as far as I know.