The Visitation
LP
Released 1976 or 1977
Siren Records (US)
Cat. No. DE-1000
Re-released 1989
Dossier Records (West Germany)
ST9, DLP-9 (EFA 05889-08)
clear vinyl
Re-released 1991
w/ Live In Germany
Dossier Records
Cat. No. DCD 9014 (CD)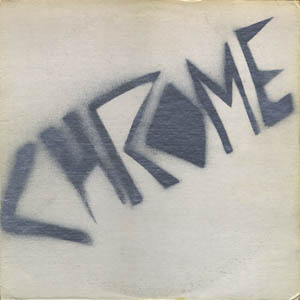 Spray-Painted Cover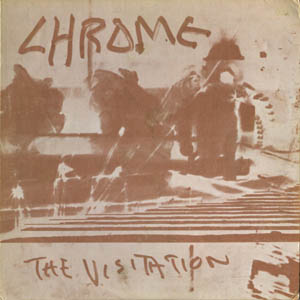 Picture Cover
The first Chrome release is particularly collectable due to the many variations of covers, labels, and inserts. The first spray-painted cover releases included 3 inserts, all of which are quite rare. The initial pressings had a plain looking white label with black text. Perhaps accidentally omitted from the label was "Siren Records", which was subsequently added with a rubber stamp. The second pressing incorporated "Siren Records" pre-printed on the label. Later pressings used an entirely re-designed label featuring silver hand-written text on a black background, typical of the labels used on the next several albums. Most, if not all of these black-labeled records were released with the picture sleeve. All three of these "original" releases of The Visitation were from the same mould (matrix# Kendun DE-1000).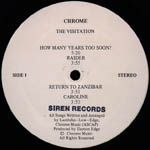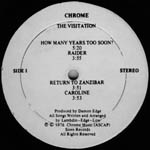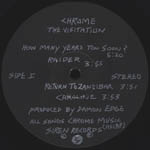 Insert 1 Insert 2a Insert 2b Insert 3

Side I
How Many Years too Soon (5:20)
Raider (3:55)
Return to Zanzibar (3:51)
Caroline (3:53)
Side II
Riding You (4:58)
Kinky Lover (3:31)
Sun Control (3:14)
My Time to Live (4:18)
Memory Cords over the Bay (5:27)
Produced by Damon Edge
All songs published by Chrome Music (ASCAP)
There has been a report of yet another insert. This one is 10-3/4 x 17", black with white print on one side, plain white on the other. It lists players and instruments, recording details etc. on one side and lyrics to Kinky Lover and Sun Control on the other. It was included with the later releases..